Customer service is often the lesser cousin to self-congratulatory brand marketing, and for a long time customers have simply endured this situation as they were effectively powerless to do anything about it. But no more.
Increasing customer frustration is being match by growing pressure on brands to service the customers they have says the newly released 2012
American Express® Global Customer Service Barometer.
Not surprisingly, social media is instrumental in this shift. Consumers using social media are wielding growing influence, telling more people about their service experiences, good and bad.
Heer are some of the key facts from the report that dramatize how customer service can make or break tour brand as a function of what it inspire customers to say about you across their social media channels:
Customers say they'd spend 21% more with companies who deliver great service, compared to 13% on average.
More than eight in ten consumers have bailed on a purchase because of a poor service experience compared to 55% overall.
On average social media users will tell 42 people about their good experiences, compared to 15 people overall.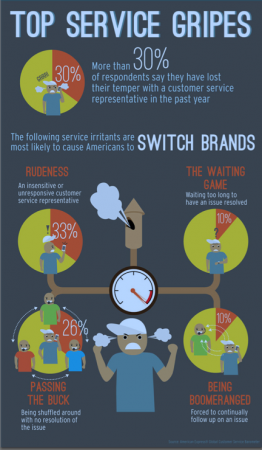 When it comes to specific complaints, consumer sentiment is equally declarative.
When asked what would most cause consumers to switch brands, the responses were:
Rudeness: 33%
Passing the buck: 26%
Waiting: 10%
Constant follow-ups: 10%



As damning as this seems, it also represents a clear description of areas in which your brand can exceed its competitors using social media. In return, customers will use their own channels to champion their positive experiences.
The net takeaway of the
Report
is that social media is polarizing the impact of customer service in your business. The better your service, the greater the benefits. The worse it is, the more it's shared. So while it seems self-evident to say that a company should be committed to genuinely serve its customers (especially since it's far cheaper to keep a customer than win a new one or convert a critic), social media is reminding us that this is a must if you want to succeed in the social business marketplace.
You can download the full report
here
.
via
socialmediatoday.com