Oakley in a worldwide real reality program.
The emergence of 33 miners from the bottom of Atacama Desert in Chile after 69 days gave the whole world a reason to cheer and believe. It also brought Chile under spotlight and the successful completion of this evacuation boosted its brand and that of the political team that headed it. Other than Nasa (which provided the liquid diet for miners) an American brand that managed to get a brilliant coverage was the American sunglasses brand, Oakley, that was worn by the 33 miners as soon they touched light.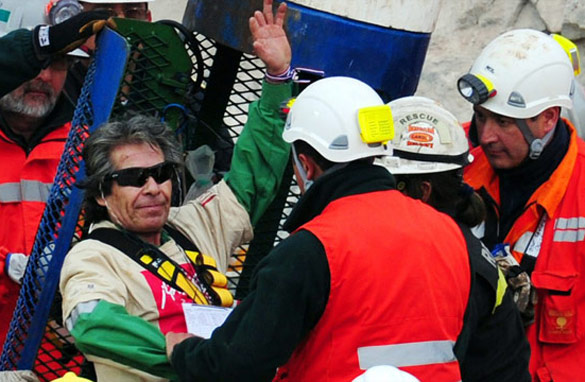 The first miner came up after a 24-hour vigil by people glued to televisions and computer monitors around the world where this operation was beamed live. The spectacle was topped only by the World Cup, Wimbledon and Barack Obama's presidential inauguration, according to various online news usage indices.
All miners were given sunglasses when they came out
to avoid direct contact with sunlight
and were seen wearing sunglasses as they came out in media glare. These sunglasses which retail around
$180
were donated by Oakley. This $6300 investment seems to have reaped them rich marketing dividends in publicity that is projected to be over $50 million worth of advertising by various measurement agencies. The images of the miners coming up was on practically every channel even in India. Just google Oakley + Chile and the first few pages talk about the brand, the specifications of its products, its amazing quality and of course this marketing angle.
Oakley re-emphasises the association on their website by stating "The rescue team in Chile is relying on Oakley eyewear to protect the miners' eyes when they are brought back to the surface.......b

ased on their requirements and full product specifications, Oakley donated 35 pairs of Oakley Radar with Black Iridium lenses…"
According to a statement from the company, a few weeks ago, Oakley was approached by a Chilean journalist covering the rescue efforts who had recommended Oakley to Chilean private health insurer ACHS (Association Chilena de Seguridad) as a provider of protective eyewear for the miners once they surfaced. Based on the group's requirements and product specs, Oakley donated the Radars with black iridium lenses. Chile's Minister of Mining Laurence Golborne (another winning brand of this event) asked to wear one of the extra pairs to show solidarity, the statement says. Though this seems to be

charitable activity by Oakley the news of its eyewear donation was leaked to the media well before the actual rescue which we assume got them the deserved association.
So is it possible to plan such media? Yes, it is, if we are on the lookout for opportune media everytime. We usually try to find an innovative creative idea but do not give as much emphasis on finding or evolving an innovative media idea. For example this opportunity mentioned here was also available to every other sunglass brand in the world but only one managed to benefit from it. And this too seems to be partly an accident. Similarly many other brands could have participated in this humanatarian effort and received huge marketing dividends if they had taken efforts in that direction since the onset. What say?